Meena Telikicherla
Meena Telikicherla received her initial training in Bharatanatyam under Late Vidwan M.C. Shekhar and other well known gurus in Bangalore, India. She received advanced training in dance and choreography from renowned Gurus Shanta and V.P. Dhananjayan (Bharatakalanjali, Chennai), Professor C.V. Chandrashekhar (Chennai), and advanced training in nattuvangam from Padmashri Adyar K. Lakshman (Bharata Choodamani, Chennai) She continues to study with these acknowledged masters of the art.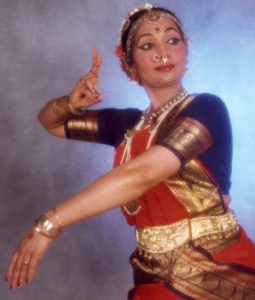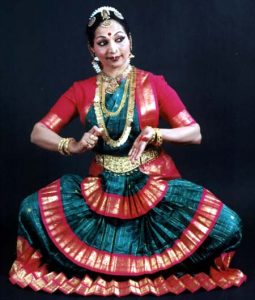 She is the artistic director of Nrityanjali, a dance institution in Gaithersburg, Md. She is a dedicated teacher, performer, and choreographer and has trained over 200 serious dancers in the past 24 years. She produced, choreographed, directed, and performed in the dance dramas (each title that follows should be in italics) Shantala, Malavika and Chidambaram. Her production of Shantala was broadcast on local television. Her accomplishments also include other television broadcasts on dance, lecture demonstrations at universities, and performances at the Smithsonian Institution.
She has given several outstanding performances in India, the US, and the West Indies. She recently performed on the Millennium Stage at the John F. Kennedy Center for the Performing Arts in June 2005.
The State of Maryland honored Meena Telikicherla as the Performing Artist of the Year 1991, and Montgomery County honored her for her contributions to the arts in 1994 and 1996. She received an award for her choreography in 2001 from the Maryland State Arts Council, and was selected as one of Montgomery County's Most Talented Artists by Montgomery Community Television.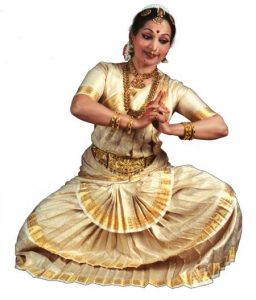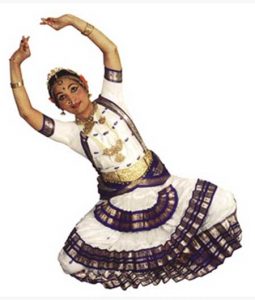 We are very proud and doubly happy to offer these blessings to Meena Telikicherla, whose undiluted love for the art and culture of Bhaarat (India) has contributed much to the development of cultural ethos in the new generation of immigrant Indian children in the Washington, D.C. area.
With her accomplishments as a Bharatanatyam artist and teacher par excellence, Meena has been an important influence on others in maintaining aesthetic values and keeping this tradition alive. Endowed with a good personality, considerable charm, and a consummate knowledge of this divine art, Meena shines amongst the best of our dancers. Her sensitive facial expressions and clean body line, or Angasuddha, speak volumes for her total involvement in this difficult performance art. Meena's dance drama productions are trend setting examples of her professionalism.
As one of our ardent disciples, we are proud that Meena is imparting the values she imbibed during several years at the Yogaville Gurukulam, where she has been integral as a devoted and disciplined student. She is undoubtedly one of the best Indian artists, contributing to the development of an Indo-American cultural relationship, and she is a crusader in keeping young generations connected with their culture.
Our blessings to Meena to continue her passionate mission in life, to serve in her chosen career as a Bharatanatyam artist and teacher.
V.P. & Shanta Dhananjayan
Bharatakalanjali
Smt. Meena Telikicherla has studied Nattuvangam with me for more than six years. She is an artist of high order and is one of my senior most students. She is a good dancer, choreographer and conductor of dance recitals. She is also a very good organizer for cultural activities. I have watched and enjoyed on many occasions of seeing her dance compositions in dance dramas and arangetrams and recitals.
She has trained her students to a very good standard and maintains classical Bharatanatyam in its pristine purity.
Adyar K. Lakshman
Director, Bharata Choodamani